Given the speed and materials possible with continuous liquid interface production (CLIP)—the groundbreaking 3D printing tech developed by Carbon—it's not surprising that large manufacturers such as BMW and Delphi Automotive have taken the tech on board for prototyping and short-run production. Now, more customers will have access to CLIP 3D printing as the California startup expands its network of 3D printing service bureaus.
While CLIP first made headlines for the ability to print complete objects in less than 10 minutes, the physical properties of Carbon's materials have since become of prime importance for those looking for prints with qualities that rival injection molding. These properties are achieved through two important elements in the CLIP process.
CLIP is a digital light processing (DLP) technology that sees a photopolymer resin cured when exposed to UV light. CLIP differs from other DLP techniques via the use of an oxygen-permeable window that both speeds up the process and allows for the printing of layerless parts. In turn, CLIP components are isotropic; they don't suffer from the weakness across the Z-axis that plagues objects made with most other 3D printing techniques. In other words, these parts are equally strong in every direction, not just the X- and Y-axes.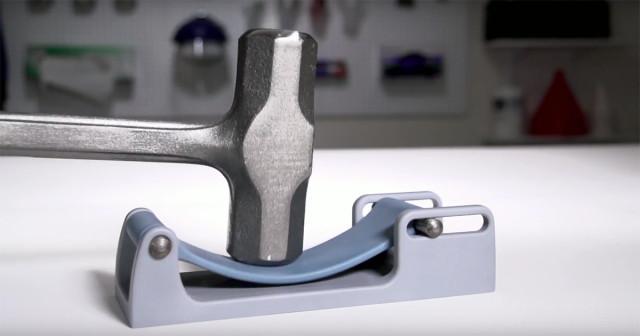 Carbon's flexible polyurethane material is semi-rigid and tough. (Image courtesy of Carbon.)
Carbon has also introduced a secondary reactive element to its photopolymer chemistries that allows for a subsequent thermal curing process after a print is made. This further strengthens the parts and results in engineering-grade mechanical properties. These properties are integrated into a number of different materials for use with the CLIP process, including polyurethanes of various degrees of flexibility, cyanate ester and a plastic for rapid prototyping applications.
Before Carbon released the M1 3D printer earlier this year, the startup brought four 3D printing service bureaus onboard to use 3D printing to fabricate parts for their customers: CIDEAS, Sculpteo, The Technology House and WestStar Precision. The company has now added Dinsmore Inc. and Midwest Prototyping to its portfolio of customers. With these partnerships, access to CLIP is not just limited to larger companies, it's also available to engineers and small businesses as well.
As mainstream manufacturing begins to adopt 3D printing for a variety of purposes, including end-part production, companies may turn to technologies that overcome the obstacles of traditional 3D printing techniques. With access to CLIP through service bureaus such as Dinsmore and Midwest Prototyping, these firms may see 3D printing as a highly capable approach to fabricating parts and may ultimately decide to bring an M1 3D printer in house. At the same time, those looking for quick prototypes and one-off prints will be able to turn to the service bureaus to have their designs made on demand.