By Duvindi Illankoon
View(s):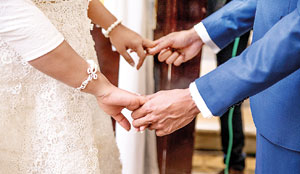 A few months ago a wedding dress took headlines by storm when it became the world's first wedding dress manufactured in part using 3D-printing technology. Sri Lankan designer Charlene Thuring and the 3D Concept Studio worked together to make this record breaking dress a reality; here they speak to us about the potential for this technology in the fashion industry.
Charlene had been waiting for a chance to print a dress in 3D ever since she was introduced to the team; "I was a little sick of seeing the same thing over and over again," she tells us. When she was approached by a client who was willing to take a chance, she jumped at the opportunity – "the studio had never applied their brilliant work to a garment and I had never seen Sri Lanka attempt it either so it was a no brainer to take this opportunity."
The 3D concept studio is a rapid prototyping company that was founded in 2013. The company offers services including 3D printing, laser cutting, 3D/2D design, 3D video walk-throughs and 3D scanning. When they were approached by Charlene, Chief Executive Officer Milinda Perera was immediately on board. "3D printing just makes sense in certain cases," he notes. "It's consistent and can be converted from design very quickly."
In some cases it can even be more cost effective. Manufacturers often use prototype models printed using 3D technology. However when manufacturing a final product, it is usually only cost effective to use 3D printing if the commodity has a low volume but a high markup cost – for example an airline part or a hip replacement or even a prosthetic limb – a service currently offered by the 3D Concept Studio. The technology can also be used to manufacture items in materials that are not found on the market – Charlene's dress was printed in flexi PLA (flexible poly lactic acid).
In Charlene's case the wide, removable skirt of the wedding dress was printed using the technology because her design would have taken a much longer time to be made into a garment had she used a traditional manufacturing method. The skirt is made up of 70 intricately designed panels – each panel took the studio two hours to print, with a total time of 140 hours. A panel had a hook on one end and an eye on the other – allowing Charlene to assemble it once printing was complete.
Other designers have also begun using the studio's services for their work. Ruani Wijenaike, a handbag and jewellery designer, uses a laser cutting technology for her designs. The studio has been approached by a number of designers and design students in the industry looking to print their work, says Milinda; they often make a decision based on cost, time and practicality.
As a method of manufacture, 3D printing has revolutionized the fashion industry. This year's Met Gala theme was ManxMachina, a nod to the exciting new strides being made in hi-tech fashion. Designers are manufacturing everything from clothes to lingerie, belts, shoes, handbags and even jewellery using 3D printing technology. Coupled with Sri Lanka reportedly targeting USD 8.5 billion in apparel export earnings by 2020, and showcases such as Colombo Fashion Week setting the benchmark for fashion designers, it's an exciting time to be in the country's fashion industry.